Our Veterinarians
When a family member is under the weather or suffering from discomfort, he deserves the attention of a caring, competent physician with the skills to diagnose his ailment and the compassion to treat him with tenderness.
At Quail Corners Animal Hospital, an expert staff of veterinarian doctors and a skilled team of technicians are here to do just that. Under the directorship of our highly skilled veterinary doctors, your pet is always in good hands. We're ready when your pet needs us.
Laura Russell, DVM and Medical Director
Dr. Russell is a Doctor of Veterinary Medicine (DVM), a Diplomate-American Board of Veterinary Practitioners (Canine & Feline) – (DABVP) and a Certified Canine Rehabilitation Practitioner (CCRP). She completed her veterinary schooling at the University of Missouri-Columbia and has been practicing in North Carolina since 2003. She has extensive experience in both primary care and emergency medicine and joins Quail Corners Animal Hospital as a co-Medical Director. Dr. Russell lives in Durham, NC with her husband and two young children.
Alise Baer, DVM
Originally from Ocean City, Maryland, Dr. Baer joined the QCAH family in 2015. She shares her home with three dogs (Pyro and Finder, Border Collies; and Nick, an Australian Shepherd), and cat Wren. Dr. Baer enjoys working with clients to figure out what may be wrong with their pets and then keeping them healthy. She loves seeing clients keep their dogs active and healthy by training them to do new things! A graduate of NC State College of Veterinary Medicine, Dr. Baer decided to become a veterinarian when she was just eight years old. When not at work, she is training Finder to play flyball – they both love it!
Kady Gjessing, DVM
Dr. Gjessing is a graduate of the NC State University College of Veterinary Medicine and has been at Quail Corners since 1991. Dr. Gjessing understands the strong bonds that develop between her clients and their four-legged family members, and strives to keep her patients healthy throughout their entire lives. In particular, Dr. Gjessing embraces the challenge of allowing senior pets to age with dignity. A native of New York, Dr. Gjessing enjoys competing in road cycle races, doing New York Times crossword puzzles, road cycling, gardening, and road cycling. She shares her home with many fur kids and loves every minute of crazy with them.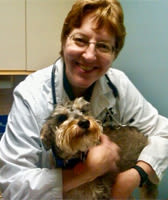 Shannon Jarchow, DVM
A native of North Carolina, Dr. Jarchow, began practicing veterinary medicine in 2004 in Roanoke Rapids. She started her scientific career in biochemistry, obtaining her master's degree studying the structure and function of cancer proteins. Yearning for more, she then moved into education and taught chemistry to the talented students of St. Mary's Episcopal School in Memphis, Tennessee. She found veterinary medicine to provide the ideal combination of her love of teaching and scientific investigation.
Graduating from the University Of Tennessee College Of Veterinary Medicine, she moved back to her home state and has enjoyed practicing veterinary medicine every since. Dr. Jarchow's many talents, compassionate attitude, and expansive veterinary skills make her a stellar asset to the medical team. Considering her special interest in feline medicine, it's not surprising that her oldest nephew Nathan calls her the 'cat doctor', a moniker reinforced by the several cats that greet her every evening that provide her with unending displays of humor, affection, and mischief.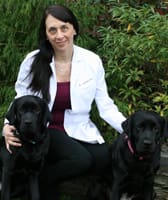 Cynthia Piver, DVM, CVA
Dr. Piver, a North Carolina native, grew up in Chapel Hill and attended The University of North Carolina at Chapel Hill for her undergraduate studies –GO HEELS! She received her Doctor of Veterinary Medicine from North Carolina State University College of Veterinary Medicine in 2004. She spent several years working as an equine veterinarian and as a mixed animal practitioner before focusing on small animals. Dr. Piver also attended The Chi Institute for Traditional Chinese Veterinary Medicine and is a Certified Veterinary Acupuncturist (CVA). This has enabled her to provide alternatives (such as acupuncture and herbal medicine) when standard treatments at not working. Dr. Piver and her family live in Cary. They have two four-legged children, Lilah and Thatch, who are both Labrador Retrievers. In their spare time, the Piver family enjoys snowboarding, boating, wakeboarding, and camping.
Kathy R. Turner, ER DVM
Dr. Kathy R. Turner Graduated from North Carolina State College of Veterinary Medicine in May of 1989. Dr. Turner became a veterinarian because she recognizes the strong bond between people and their four-legged family members. She originally joined the Quail Corners Hospital team in 1991. Dr. Turner has extensive experience in emergency medicine and surgery, Co2 laser surgery, along with basic ultrasonography and endoscopy experience. She moved to Oregon in 1997 to purchase a private practice and sold this practice in 2005 to spend more time with her two children. Since 2005, she has periodically traveled to North Carolina to perform emergency relief veterinary services for Quail Corners Animal Hospital.
Dr. Turner has 1 dog, 3 cats, and a horse and she is proud to say that all of her pets have been rescued or adopted. Her practice philosophy goal is to recommend and provide the most advanced medicine, diagnostics, surgery, and care for all patients, and to work jointly with all of our clients to design the best options that align with their culture, philosophy, and their budget.
When Dr. Turner is not working she loves to unwind in her garden, paint, crochet/knit, or cook.
Amanda Virkus, VMD
Dr. Virkus, a St. Louis native, began her career as a systems engineer in defense, but quickly realized she had more of a passion for animals and began to pursue her veterinary medicine journey instead. She graduated from the University of Pennsylvania and joined the Quail Corners Animal Hospital family in 2017. Dr. Virkus shares her home with two cats, Pax and Conway, who can high five on command (if you bribe them with food).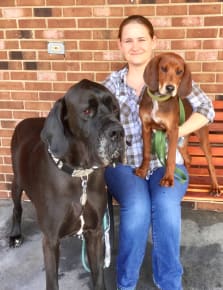 Meredith Sammons, ER DVM
Dr. Sammons, a South Carolina native, decided at a very early age (three) she would become a veterinarian. Her passion for animals and desire to work as a veterinarian led her to an undergraduate degree at Emory University followed by a veterinary degree at the University of Georgia.
Dr. Sammons followed veterinary school with a 1 year specialty and ER internship in Nashville, TN. From there she moved to the Triangle area where she worked for 5 years at a 24 hour ER and specialty referral practice in the area. She then worked for Pet Poison Helpline full-time before going to a part-time position so she could return to ER medicine and join the Quail Corners Animal Hospital staff as an ER DVM. She is a member of the AVMA and VECCS.
Dr. Sammons shares her home with her husband John and several fur kids. In her spare time, enjoys cooking, kayaking, and traveling.

Leslie Sanders, DVM
Dr. Leslie Sanders grew up in New Jersey and decided at a very young age, while treating her stuffed animals that she wanted to become a veterinarian. She followed her passion and graduated from the Ross University School of Veterinary Medicine and is a member of the AVMA, AAHA and NCVMA.
Dr. Sanders joined the Quail Corners Animal Hospital team in 2018 and enjoys making a difference and educating pet owners on the best welfare for their pets to ensure a long, happy and healthy life. She has special interests in internal medicine, pain management and senior pet welfare. One of Dr. Sanders' most memorable cases was for a Husky with poor hair regrowth after a surgical procedure. She suspected the pet had Cushing's disease but after further diagnostics were conducted, she proved the pet had an estrogen-producing adrenal tumor. Dr. Sanders treated the pet with oral medications over three years resulting in hair regrowth to a normal coat and Cushing's symptoms resolved.
Dr. Sanders lives in Holly Springs with her husband and three young boys and has a senior kitty named Jezabelle. When Dr. Sanders is not working she enjoys spending time with family, traveling, baking and watching hockey (she's a huge fan of the Philadelphia Flyers).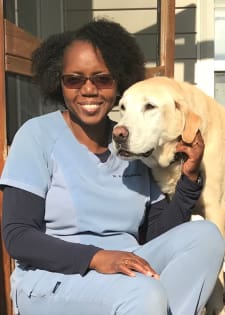 Dr. Rita Gritzmacher, ER DVM
Dr. Rita Gritzmacher is a native of Lockport, New York and relocated to Raleigh and joined the Quail Corners Animal Hospital in 2018, as an ER Veterinarian. She is a graduate of Iowa State University and a member of the AVMA and decided to become a veterinarian at four years old, because she loved dogs so much.
Dr. Gritzmacher's passion, enthusiasm, and why she comes to work each day is because she wants to be able to provide quality veterinary medicine and give families back a healthy pet. One of the most memorable cases she saw was performing a foreign body surgery on a dog that had ingested two pounds of chicken wing bones. It was a happy ending for all!
Dr. Gritzmacher lives in Raleigh with her husband, four children, and a yellow lab named Toby, who all keep her busy during non-working hours.